Working with regional health care providers, mental health officers, law enforcement, judges, emergency departments, and community partners, Gulf Bend's Crisis Intervention Services work towards providing alternatives to jail or hospitalization by providing mental health and intervention services.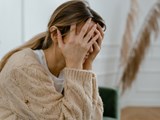 PROGRAM GOALS
Connecting individuals with appropriate mental health services
Preventing individuals from having to go to a more restrictive environment (jail or a psychiatric hospital)
Assisting individuals in reducing stress and managing systems
Improving individual outcomes through intervention and services
PROGRAM SERVICES:
Crisis assessment and intervention services
Substance abuse counseling
Personalized safety planning
Follow up services and wellness checks
Coordination of services and treatment between Gulf Bend and other community resources
Transportation for individuals to Gulf Bend, ER, or inpatient psychiatric hospital
Training and support for caregivers
Finding help when faced with a mental health crisis – for yourself, a loved one, or someone you're concerned about – is easier now that the National Suicide Prevention Lifeline is live. Simply calling or texting 988 or typing
988Lifeline.org
will connect you to compassionate care & support for mental health-related distress.
#988Lifeline
ELIGIBLE CANDIDATES
Crisis response is available 24/7 for individuals who live within Gulf Bend's service area (Refugio, Lavaca, Dewitt, Goliad, Victoria, Jackson, and Calhoun counties). Screening and assessments may be required for specific programs. *Individuals will not be denied access to services based on current address or ability to pay.
Anyone experiencing a crisis situation is encouraged to contact
GULF BEND CRISIS HOTLINE
Funding is provided by Methodist Healthcare Ministries of South Texas, Inc.
Mental Health, Intellectual & Developmental Disabilities & Substance Use Issues
24-Hour Crisis Hotline: (877)SAFEGBC or (877)723-3422