Smoking Cessation Program
Gulf Bend Center's Smoking Cessation program assist individuals in decreasing their dependence nicotine and tobacco products.  Research shows that non-smokers as well as those that quit smoking now, have a longer life span and improved physical health.  Our focus is to educate our customers on the dangers of tobacco use, teach skills on how to quit, and to provide resources to continue their quest for independence from tobacco products. 
PROGRAM GOALS
To aide our customers in identifying their personal smoking triggers
Provide education and products to aid in your decision to quit
To decrease the number of people using tobacco products
PROGRAM SERVICES
Tobacco Assessments
Individual Counseling
Provide ongoing support and resources
Medication Assisted Treatment
Nicotine Replacement Therapy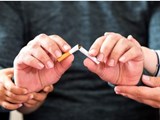 ELIGIBLE CANDIDATES:
Services are provided to individuals within Gulf Bend's seven county catchment area (Refugio, Lavaca, Dewitt, Goliad, Victoria, Jackson, and Calhoun). *Individuals will not be denied access to services based on current address or ability to pay.
Funding is provided by Methodist Healthcare Ministries of South Texas, Inc.
Mental Health, Intellectual & Developmental Disabilities & Substance Use Issues
24-Hour Crisis Hotline: (877)SAFEGBC or (877)723-3422