Gulf Bend Center's Counseling services are provided by highly trained Licensed Professional Counselors (LPC) to help individuals, couples, and families who are experiencing emotional, social, behavioral, or relationship difficulties.  Counseling can be helpful in many ways.  It can help you better understand your own thoughts and emotions, increase positive communication between couples and family members, learn skills to deal with traumatic events, and learn ways to handle stressful situations.  All aspects of your counseling are kept private and confidential as outlined by federal and state law.  This includes the scheduling of appointments, record keeping, and any issues discussed in sessions. Some issues treated include depression, anxiety, grief and loss, family issues, stress management, communication needs, and career issues.
PROGRAM GOALS
Provide quality mental health care in the primary care setting
Reduce co-occurring medical and mental health conditions
Provide counseling services to individuals who may not be able to afford counseling otherwise
PROGRAM SERVICES
Individual counseling
Family counseling
Marriage and couples counseling
Group counseling
Telemedicine services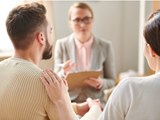 ELIGIBLE CANDIDATES:
Services are offered to all residents age 5 and older who live within Gulf Bend's seven county service area: Refugio, Lavaca, Dewitt, Goliad, Victoria, Jackson, and Calhoun. *Individuals will not be denied access to services based on current address or ability to pay.
Funding is provided by Methodist Healthcare Ministries of South Texas, Inc.
Mental Health, Intellectual & Developmental Disabilities & Substance Use Issues
24-Hour Crisis Hotline: (877)SAFEGBC or (877)723-3422